CBD edibles from CBD American Shaman of Frisco are made from 100% organic and terpene rich pure hemp extract! Choose from gummies, candy, brownies, cookies, and more. All of our CBD oil products are made with non-GMO hemp, grown in the USA, powered by our proprietary nanotechnology, and lab tested to ensure purity and potency standards. Our edible CBD products from CBD American Shaman of Frisco, are a delicious way to reap the benefits of CBD oil.
CBD Gummies

MADE IN USA: A colorful and tasty way to get your CBD on! Each piece of fruit flavor ADULT Gummie Candy is infused with 10mg of CBD.
Serving Size: 2 pieces per day
Strength: 30 gummies @ 10mg per piece = 300 mg of CBD per container
Usage: As a Dietary Supplement
Ingredients: Glucose Syrup (from Wheat or Corn), CBD from Hemp Oil Concentrate, Sugar, Gelatin, Dextrose, Citric Acid, Corn Starch, Artificial and Natural Flavors, Palm Kernel Oil, Carnauba Wax, White Beeswax, Yellow Beeswax, Yellow 5, Red 40, Blue 1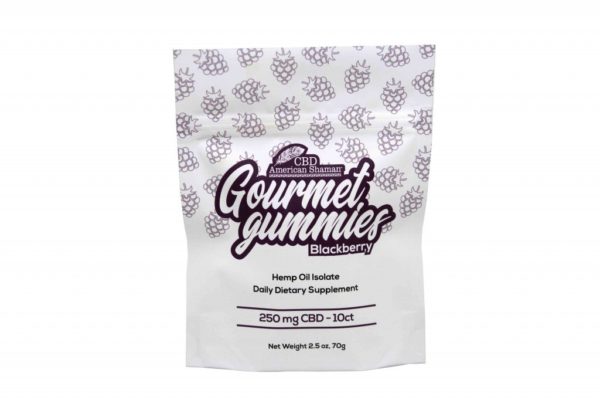 CBD Gourmet Gummies
MADE IN USA: CBD Gourmet Gummies are the perfect way to satisfy your sweet tooth while delivering all the benefits of our Organic, Terpene Rich CBD Hemp Oil.
Flavors: Sweet Watermelon, Sour Watermelon, Sweet Blue Raspberry, Sour Blue Raspberry, Sweet Blackberry, Sour Blackberry, Sweet Tropical, Sour Tropical
Serving Per Container: 10
Strength: 250mg (25mg per gummy)
Usage: Take 1 gummy for a full serving of CBD or as needed.
Ingredients: Corn Syrup, Pectin, Citric Acid, Dextrose Sodium Acetate, Natural Flavoring and Sugar
CBD Popcorn
MADE IN USA : Your favorite guilt-free, whole grain snack, but now with extra benefits. Fluffy, crunchy, and delicious, your all-natural, gluten-free popcorn has no preservatives and no MSG. What it does have is protein, fiber, antioxidants, and iron. Now with 30 mg of high quality, full spectrum CBD in each 3 oz. bag, you have one more reason to reach for your favorite, bite-sized snack.
Size: 3 oz. (30mg CBD per bag)
Ingredients: Sugar, Pop-corn, Peanut Oil, Maltodextrin, Natural Flavors, CBD Hemp Oil and salt.
CBD Honey
MADE IN USA: Our CBD infused honey is the perfect way to add wellness to your favorite drinks or snacks. We harvest raw honey from Cooper's honey, located in Missouri.
Serving Size: 10mg CBD Per Serving (4ml)
Strength: 120mg CBD Per Bottle
CBN Gummies
MADE IN USA : We have taken our famous CBNight blend with cannabinol (CBN) and put it in an easy-to-use and tasty gummy. Each gummy has 2mg of CBN in it for a perfect serving size of cannabinol to help you get a good night's rest. It's recommended that you take your CBN gummy about 30 minutes before bedtime. In the bottle, you'll get 30 gummies to last you for a whole month of sound sleep & help you find back your perfect circadian rhythm.